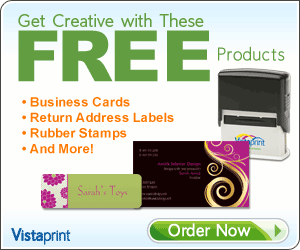 VistaPrint
offers a bunch of
FREE
items.... you just pay shipping! These items include:
Business Cards

Rubber Address Stamps

T-Shirts (custom)

Car Magnets

Bumper Stickers

Pens ................... and more!
Once you click on the link look on the left hand side and click on FREE PRODUCTS
(Sorry about the picture quality)
In case it's a little hard to read the card says:
We hope you enjoy your gift!
Love,
Mark, Deanna and Gavin
Now I have 250 customized gift tags for Birthday, Wedding and Baby Shower gifts!